Marble Waste:
Designing with offcuts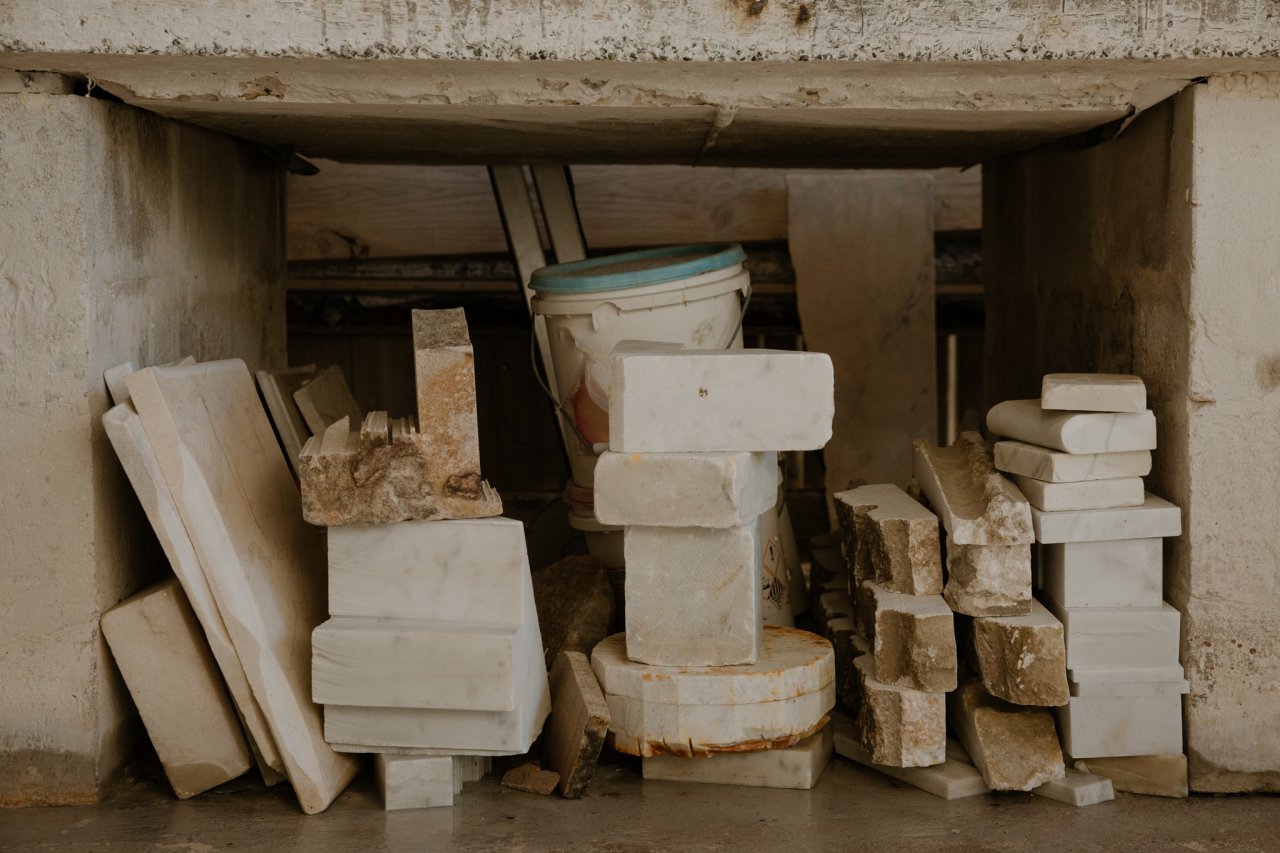 Filed In
Process
We frequently specify marble in our projects. It is widely available, durable, easy to be refinished, and, it looks good.  

In early 2022 we visited the workshops of several marble suppliers and fabricators in Sydney.  Each workshop had, at minimum, a 6-tonne skip bin out the front filled with mixed off-cuts. These bins are emptied once per fortnight. The disposed pieces range from small slabs to fine rubble, from onyx to engineered stone, and are all destined to be crushed into road base.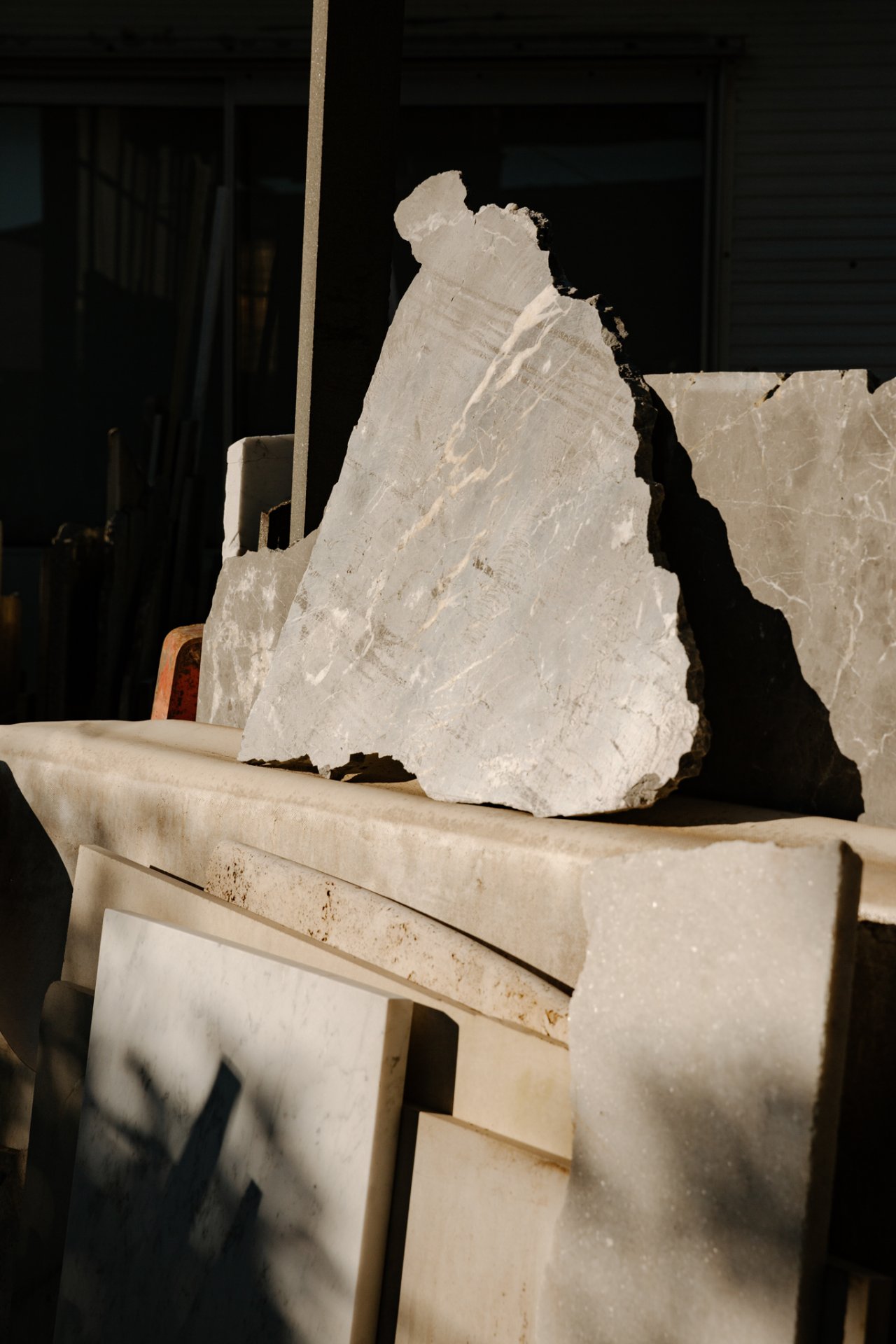 Photography: Hamish McIntosh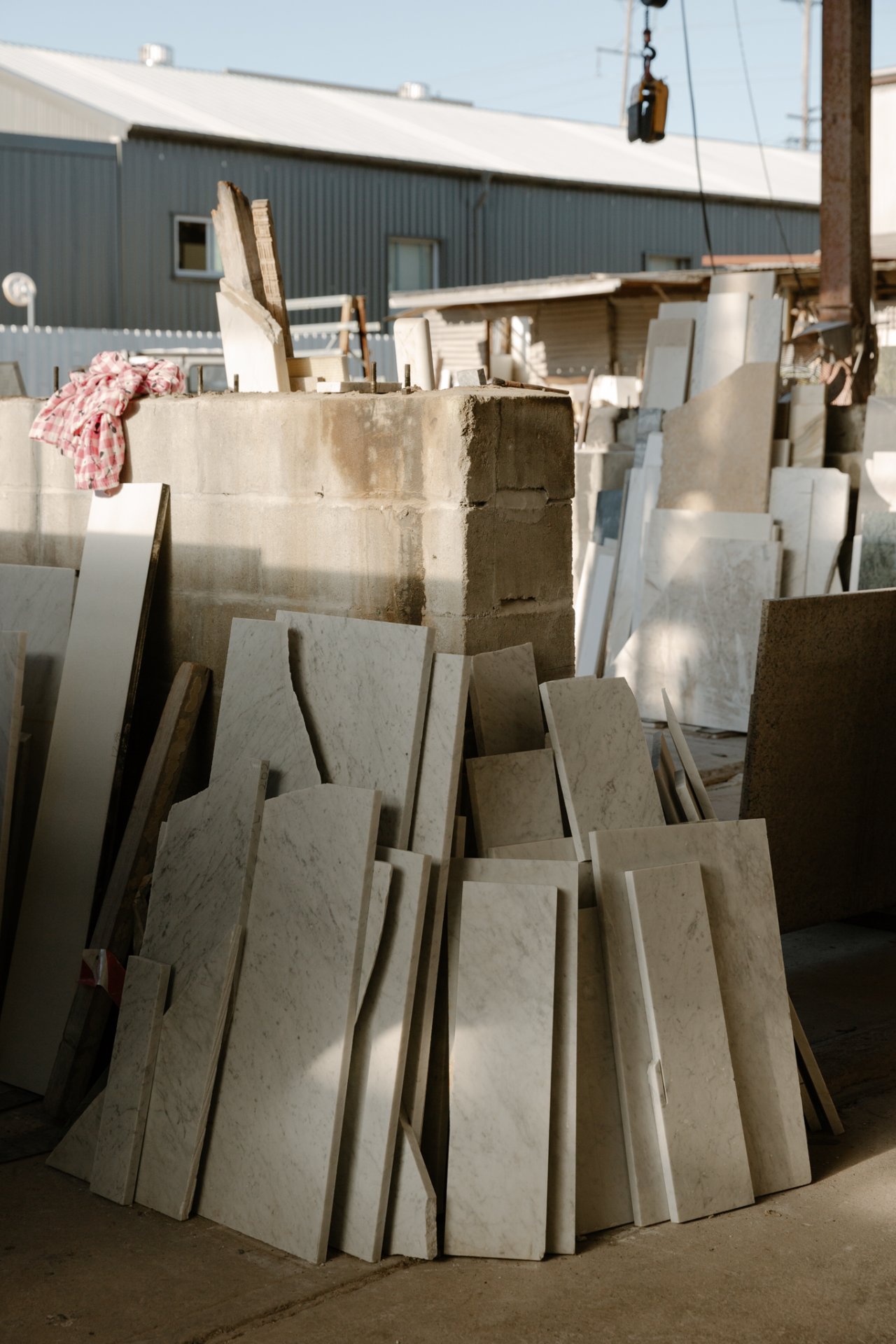 Photography: Hamish McIntosh
This excessive waste is produced because marble is sold by the slab.These slabs come in varying sizes, sometimes with raw edges depending how they were extracted. To meet the specification of the design, the slabs are cut, whether that is the raw edges trimmed off, holes cut out for undermount basins, or simply cutting the slab to align with the dimensions of the kitchen benchtop. What we are left with is an abundance of offcut material that will either be thrown away or stacked outside a fabricator's workshop collecting cobwebs. 
Most marble used in Sydney interior fit-outs originates from across the world, most commonly Italy, China, Turkey, India, or Spain, to name a few. Australian marbles are rarely used due to their limited availability and the expensive labor and transportation costs. Marble processing, as with most large-scale manufacturing, is energy intensive from the explosives used to quarry the material to the machinery to cut the blocks into slabs. In addition, it is a material that has historically utilized slave labour, and to this day there are questionable examples of safe working conditions. It is critical to investigate the source of the marble that we specify. 
Despite the embodied energy used to extract and transport marble, its long life span and the absence of any harsh glues and chemicals in its processing means that marble can be a sustainable material. In particular, what we are interested in is the possibilities that emerge by understanding marble offcuts as a new material. We have been exploring ways to take this waste material and transform it into a design product.  
We've explored using offcuts in the following ways - from designing a chair with a 600x400 tile format from the excess stock of an order, to combining different marble slabs for a kitchen benchtop, to utilising the marble as door thresholds, or as 'crazy paving' when they are much smaller pieces. When the pieces were too small for any clear use we explored crushing them into 10-20mm aggregate so that they can be incorporated into terrazzo benchtops and floors. The final strategy we have investigated is incorporating the dust (fine and coarse) as an alternative for sand in terrazzo mixes. This is a mixture that is currently being investigated further by our friends Natural Brick out at Warragamba.